OWER PLANT - The "Rochester" Motor, a four-cylinder unit power plant embodying the refinements and perfections worked out by Mr. W. Cr. Henderson and Arthur O. Lemon in designing and building four-cylinder motorcycles since 1911. Motor, Clutch and transmission form a complete unit, all being housed in a single crankcase and running in oil bath.
MOTOR Long-stroke four-cylinder engine of 78 cubic inches piston displacement that, combines high efficiency with cool, quiet running, great flexibility and ease of control. Bore, 2.750"; stroke, 3.250". Smooth pulling, quick in acceleration, clean, silent.
CYLINDERS F-head type, with inlet over exhaust, causing cold incoming gas to pass over surface of exhaust valve to assist in keeping the latter cool under sustained hard driving . One- piece casting of close-grained gray iron. Spark plug located in valve pocket where spark occurs in center of fresh, live gas, insuring quick and thorough combustion with no chance of fouling. High head fins give maximum radiating surface.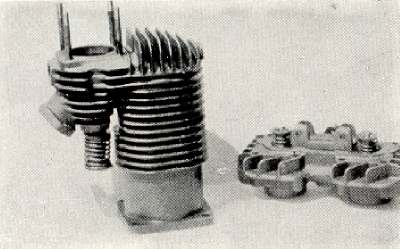 VALVE CAGES Cast in pairs and provided with deep thin cooling fins that add large area to the effective radiating surface and produce cool running and high efficiency even under long sustained hard pulls or high speed. Gas enters opening in center of cage, from whence it passes to the inlet ports of the cylinders at both its ends.
VALVES 1 1/2" diameter, ¼" lift, giving free unobstructed flow of gases. Inlet valve, 30° seat,; exhaust, 45°. Both intake and exhaust tappets easily adjustable without removing from base. Tappets thoroughly lubricated by carefully designed oil returns which keep lubricant inside motor and prevent leakage.
VALVE MECHANISM – Inlet rocker arm operate on hardened steel pivot pins centered for each pair. Tappet guides generous in size and provides with oil returns which ensure cleanliness of motor. Complete inlet; valve mechanism enclosed in dirt-proof pressed steel bonnets, with neat snap cover for ease of oiling, thus insuring absence of wear and silence of operation.
CRANK SHAFT One-piece drop forging, case- hardened 1-1.6" deep. Three big bearings, ground to size. Front bearing, 1 1/8" diameter; 1 1/4" long. Center, 1 1/8" diameter; 1 1/2" Rear, 1 1/8" diameter; 1 1/2"
BE ARINGS Bronze babbitt-lined, on crank shaft, connecting rods and counter shaft, adjustable to take up wear. Clutch bearing, 1 1/2" diameter; 15-16" long. Pilot bushing, 3/4" diameter; 1 1/2" long.
CRANK CASE Finest qua1ity pure aluminum, light and strong. Upper half strongly reinforced by heavy webs. Lower half generously webbed inside and out to give great, strength and immunity against, road shocks. Three drain plugs, located in horizontal positions so as to be protected from damage.

ROAD CLEARANCE Full 4 1/2" at lowest, point of motor base. Frame cradle clearance, 7 1/2". CONNECTING RODS Drop-forged, I-beam section, with holes drilled through web to provide lightness combined with maximum strength. Heat-treated and quenched in oil, giving great toughness and endurance. Split at crank pin for take-up. Oil dipper on lower end.
PISTONS Standard model fitted with closegrained gray iron pistons, very light and perfectly balanced, provided with oil returns to insure correct lubrication. Three rings to each piston, with light pressure on cylinder walls and narrow faces on rings, to reduce friction to minimum while preserving proper compression and high motor efficiency. Sporting Solo Model provided with long skirt aluminum alloy pistons.
WRIST PINS Floating piston pins, with ends tipped by soft brass buttons to insure against scoring. Perfect bearing in piston and in connecting rod. Piston may be removed from connecting rod in moment's time, as wrist pin can he slipped out immediately when cylinder is removed. Long wearing, free running, trouble-proof.
LUBRICATION Entirely automatic and trouble-proof. Constant level, circulating splash system of type used on fine automobiles. Oil carried in reservoir in motor base supplied in constant streams to splash troughs under the connecting rods by positive gear pump.

OIL GAUGE Oil gauge, with notched rod dipping into sump, shows amount of lubricant in oil sump. Capacity of oil reservoir, 1 gallon.
REMOVABLE PAN Oil pan in bottom of crank case. Lower half of cast aluminum crank case may be removed without, taking engine Out of motorcycle frame, thus facilitating inspection or overhauling.
BREATHER Breather incorporating oil filler, with baffling device to avoid loss of oil, bolted on left of crank case. Long air pipe extends well down side of motor base. T-head filler cap for easy removal hy hand.
MUFFLER Muffler and exhaust manifold in one unit, with 1 1/4" gas passages arranged in sweeping lines, having no sharp bends or corners to obstruct. free movement or cause back pressure. Generous expansion chamber, 2 1/2"diameter, permits gases to coo1 and lose velocity before passing into large tail pipe leading to rear of machine. Silent, cool and efficient. Cutout; of improved pattern operated by foot,; produces pleasant bass hum when open.
INLET MANIFOLD One-piece casting with two outlets. Gas passage forked to supply same vo1ume of mixture to each cylinder. Main gas channel straight, from carburetor, with no sharp bends or curves to retard flow of vapor.
HEATING DEVICES Air heated by passing through tube enveloped by exhaust flames in muffler before reaching lower air intake of carburetor. Hot spot, provided by stamping connecting rear of valve cage to manifold, insures thorough vaporization, thus assisting both in producing maximum power and reducing carbon deposits.
CARBURETOR Ace-Schebler, special model designed to meet, the particular requirements of this motor. Adjustments for high and low speeds. Special warm air intake. Located in convenient position for easy adjustment, while riding. Easy starting, smooth running, free from delicate or complicated parts.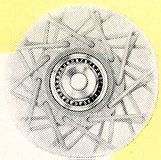 IGNITION Simms high tension magneto, armored and water-proof. Ignition wires enclosed in black fiber tube for protection. Spark plugs, metric.
LIGHTING GENERATOR Electrically equipped Ace motorcycles use the regular high tension magneto for motor ignition and are equipped with an entirely separate unit to provide current for lights, so that no derangement of the lighting circuit has any effect on the operation of the power plant. Lighting current produced by standard Splitdorf generator. Mounted underneath tank on left side, protected from weather or accident. Driven by black fiber sheave wheel, split and clamped on magneto shaft.
ELECTRICAL EQUIPMENT Power accumulated in Wico storage battery mounted in box suspended from frame under t,he sacidle, readily accessible and 1ocated so as to give best balance. Lid can be removed and battery refilled without removing terminals. Powerful headlight mounted on strongly braced bracket, with parabolic reflector and dimmer controlled by switch. Taillight,. Motor-driven electric horn securely clamped to frame in inconspicuous position below tank. Horn button ahead of left grip.
LIGHT SWITCH Lights may be operated singly or together by means of switch conveniently located on side of battery box.