Light motorcycles with small engines seemed a promising market.

The car manufacturing company which were making the "Cleveland" automobile in Ohio also ventured into the field of motorcycle production.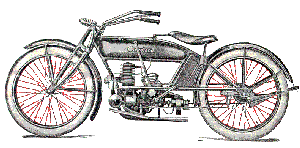 1920 -flattanker, a totally new cycle
In 1915 they launched a remarkable little two stroke engine which were to be kept almost unchanged for 10 years. It was very clear that the team at Cleveland had looked more than just closely at the newly launched British made "Baby" Triumph little two stroke. The simplicity of the two stroke engine and the new and patented transmission made the little Cleveland such a cheap and simple alternative.
Starting the Cleveland was by a kick pedal working through the wormwheel backwards, not an easy task. Drivers were reccommended to sit astride, press down on the seat, both feet on the ground and "walk" the little motorcycle a go..... The earliest Cleveland were black frames and light grey paintwork(like HD) on fenders, toolbox and tank. The bike featured typical British details like lever speed regulation of a Brown & Barlow carburettor, pressure relief valve, footpegs with rubber footrests,and a pendulum front fork.

As the "Great War" ended Cleveland changed to the color Olive drab (also like HD)like so many others.For 1921 the glory of the war were not that shiny, so Cleveland chose dark blue with cream colour wheels as their livery. For 1920 Cleveland "Americanized" the bike by putting on cast iron footboards and larger pedals at the bottom, a flat tank above a new frame tube at the top and and the tiny tube front fork were replaced by stamped out sheet metal construction. To compensate the added weight the capacity was increased to 270cc with a new cylinder. and put in a flat tank.

My own Clevelands came in different baskets so my last of the roundtankers and my first of the flattankers has slowly been completed with finds from several sources.